How beautifully leaves grow old.
How full of light and color are their last days.
~John Burroughs~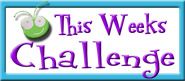 #79 – Leaves are Falling
Create a project with leaves on it
Authentique 6x6 paper pack - glowing
Distress Crackle paint - rock candy on the top leaves
Stampendous Pearlustre - Carnelian used on the "happy thanksgiving"
Hero Arts clear cling "seasons of giving" used for the "happy thanksgiving"
Stamps of Life "thanks2fall" used for the small pumpkins
Micheals' chocolate card 4x6
Tim Holtzs core'dination colorcore cardstock for the leaves
cricut cartridge "Cindy Loo" using the gypsy leaf branch and shadow cut at 3.47
VersaMArk watermark stamp
Stampin Up classic ink - mellow moss
Smooch Spritz